Events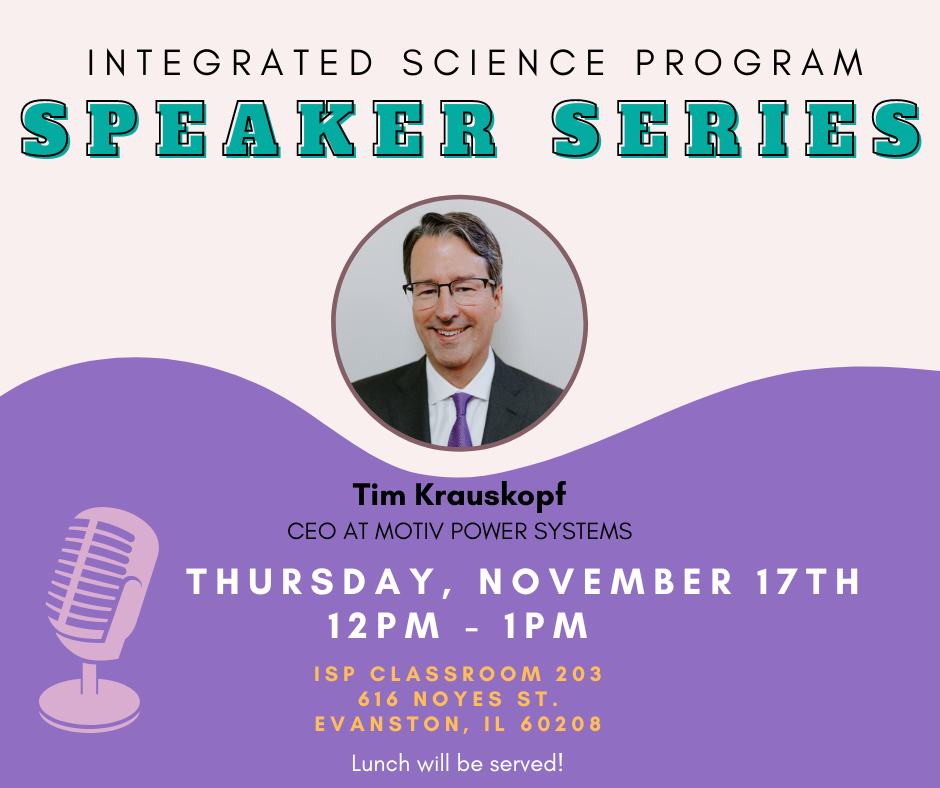 The Integrated Science Program is pleased to host our first Speaker Series for the Fall Quarter with ISP alumnus, Tim Krauskopf, on Thursday, November 17th at 12pm - 1pm. 
Please join us for a lunch and lecture where Tim Krauskopf will discuss how his degree in Integrated Science has driven his multifaceted career in manufacturing, transportation, and tech. For further reading on our speaker, see Tim Krauskopf's bio below. 
TIM KRAUSKOPF was EC '81 in the Integrated Science Program and graduated from WCAS/ISP in 1984, going on to a Master's in Computer Science at the University of Illinois - Urbana-Champaign and was a Research Assistant at the National Center for Supercomputing Applications right as it was formed in 1985. Later, he returned to earn an MBA degree from Northwestern's Kellogg School of Management in 1999. 
Krauskopf is now the CEO of Motiv Power Systems, a California-based manufacturer of battery-powered commercial electric trucks and buses, along with the charging and related infrastructure to make adoption seamless. Krauskopf has held a variety of management and technical roles in several industries such as manufacturing, automotive aftermarket, transportation, the Internet, insurance services, and high-tech. This includes making automobile superchargers and performance cars, founding his own trucking company, starting up companies in FinTech, and a term as Vice President in the Internet Software and Content Group at Motorola. Before that, Krauskopf was Head of Information Services at The Field Museum in Chicago. Earlier, Krauskopf was a co-founder, chief technical officer and vice president of research and development for Spyglass, Inc. the developers of the commercial version of NCSA Mosaic which became Microsoft's Internet Explorer.
Krauskopf served 15 years on the Aspen Institute Board of Trustees and was an inaugural Henry Crown Fellow. He is now a Life Trustee of Northwestern University, having served on the board since 1996. He also participates on advisory boards at NU for the Weinberg College of Arts and Sciences and the Chemistry of Life Processes Institute.